EU Tyre Labelling
Our team of tyre experts are always on hand to answer your questions and help you choose the right tyre for your vehicle and driving style. The EU Tyre Label gives you confidence in our advice and the opportunity to compare tyres yourself. Since November 2012, every car tyre, SUV tyre, van tyre and 4x4 tyre has been graded on three key areas: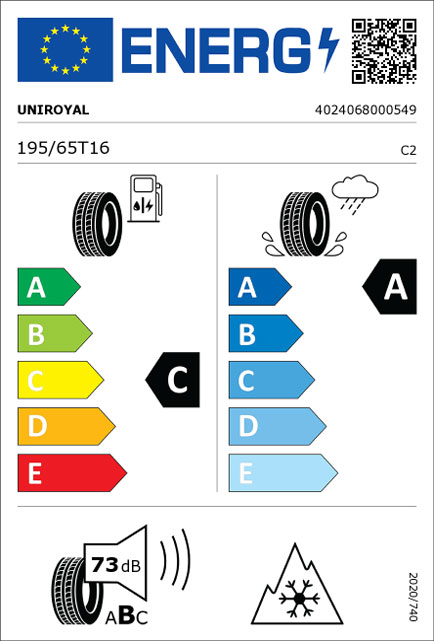 ---

Fuel Efficiency
A rolling tyre deforms and dissipates energy. The energy that's lost is known as rolling resistance and directly impacts fuel consumption.
Vehicles fitted with a full set of grade A tyres could reduce fuel consumption up to 7.5% more than those fitted with a full set of grade E tyres.
---

Wet Grip
Tyres with excellent wet grip have shorter braking distances on slippery roads, essential for keeping you safe in the rain.
This rating measures the distance travelled by a car after braking at 50mph in the wet with testing according to regulation EC 1222/2009. Grade A tyres braking distance is up to 30% shorter than grade E.
---

Exterior Noise
Exterior noise levels are measured in decibel (dB) and graded A, B or C.
Grade C represents the current limit, grade B meets future laws and grade A is a further 3dB below. Please note, external tyre noise is not related to interior vehicle noise
---
In May 2021 new EU Tyre Labelling regulations were introduced. This was driven by Europe's commitment to reach climate neutrality by 2050 and improve road safety. The new EU Tyre Label simplifies the previous grading system by assessing Fuel Efficiency and Wet Grip on a scale of A-E. The class of External Noise is also easier to identify with a grade of A-C. In addition to a comprehensive grading system, the label now displays:
---

Three Peak Mountain Snowflake (3PMSF) Symbol
If eligible, the EU Tyre Label will include the 3PMSF symbol to demonstrate the tyres impressive winter performance.
At 50 km/h, a winter tyre brakes an average of 30m shorter on snowy roads, compared to a summer tyre.
---
Ice Grip Symbol
If eligible, the EU Tyre Label will include the Ice Grip symbol. This indicates the tyres shorter braking distances on ice.
Recommended for use in severe climates with snow and/or ice covered road surfaces. Under less serve conditions, such as wet roads or warmer climates, these tyres might not deliver optimum performance.
---

QR Code
Located in the top right corner of the label, this code has a direct link to download more information about the tyre and product sheets once scanned.
Please note this code can be scanned on smart phones and tablets only.